旅行授权-新学生
Travel Authorisation - New Student
Travel Advice for International Students
The latest visa and travel advice from the Malaysian Government
Please read the following notice carefully before applying for your Travel Request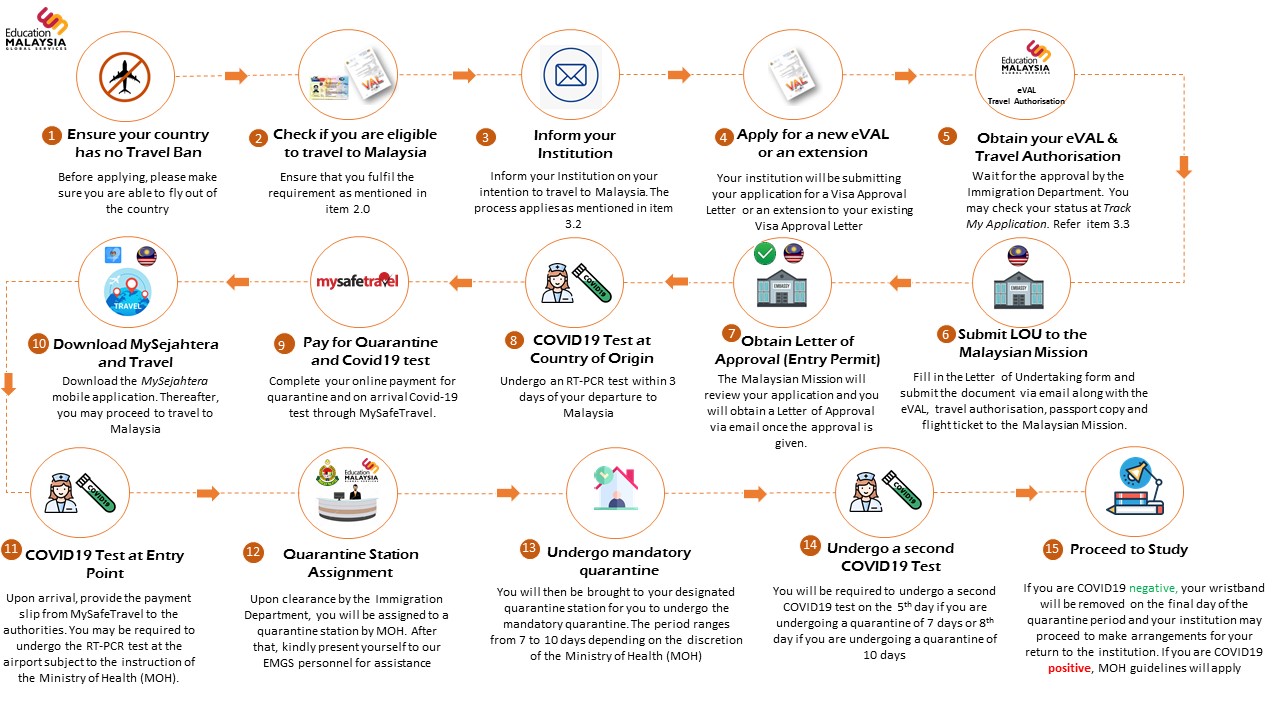 Open original
1.0 Notice to international students traveling to Malaysia
The Ministry of Higher Education has announced on the 12th of January 2021 that private and public universities may now accept new international students to continue their studies in Malaysia.
2.0 Which new student can apply to travel to Malaysia?
2.1 Students who have obtained the Visa Approval Letter (eVAL) but it has expired due to the Movement Control Order (MCO).
2.2 Students who have submitted an application for the Visa Approval Letter(eVAL) but is yet to be approved.
3.0 What must I do in order to travel to Malaysia?
3.1 Ensure that your country has not imposed a travel ban.
3.2 Ensure that your institution is aware of your travel intention. Depending on your current situation, the following process applies:
Category 2a: Your institution will be required to submit your current Visa Approval Letter(eVAL) for an extension at the Immigration Department of Malaysia and wait for the new Visa Approval letter(eVAL) to be issued.
Category 2b: EMGS will process your application if your documents fulfil the requirement and subsequently submit your application to the Immigration Department for approval your Visa Approval Letter(eVAL).
3.3 You may use the Track My Application feature to check the current status of your application. Please note that this feature is only available for Category 2b. You are required to check with your institution on the status of your application if you fall under Category 2a.
4.0 What should I do once my Visa Approval Letter is approved/extended?
4.1 Once your Visa Approval Letter is approved by the Immigration Department, a Travel Authorisation Letter will be issued along with it.
4.2 To access these documents, please enter the relevant information under the following fields in Track My Application .
Travel Document Number
Nationality
Application Type: Student Visa
4.3 You will see an option to download the eVAL and Travel Authorisation Letter. Download these documents and make sure you keep a copy of it in your mobile phone.
4.4 Next, please fill in the Letter of Undertaking which can be obtained from here.
4.5 Submit the eVAL, Travel Authorisation Letter and Letter of Undertaking via email to the Malaysian Mission to obtain an approval to travel to Malaysia. Note: You are not required to fill in the 'Child' section.
4.6 You may be required to apply for a Single Entry Visa (Depending on your nationality) prior to travelling to Malaysia. Please check with your Malaysian Mission for more information on this matter.
4.7 Once the Malaysian Mission has approved your application to travel, you will receive a Letter of Approval which must be brought along when you depart to Malaysia.
5.0 What should I do before travelling to Malaysia?
5.1 Ensure that you have made flight arrangements to Malaysia. Please be advised that you are only allowed to enter Malaysia via KLIA and KLIA2 entry points. International Students that attempt to enter Malaysia from other entry points will be denied entry and may risk being deported to their country of origin.
5.2 Once your departure date is confirmed, undergo the RT-PCR Covid-19 Test three (3) days before travelling to Malaysia. The RT-PCR Covid-19 test result must be translated in ENGLISH so that the respective authorities in Malaysia can inspect it.
5.3 Next, please complete the online payment for the Quarantine and the Covid-19 Screening Test through MySafeTravel (www.safetravel.myeg.com.my) / MyQr application by MyEG (www.myeg.gov.my). This procedure is required as you will be required to undergo an RT-PCR test and quarantine upon arrival in Malaysia.
5.4 Download the MySejahtera mobile application. MySejahtera is an application developed by the Government of Malaysia to assist in monitoring COVID-19 outbreak in the country.
5.5 Be very careful with your surroundings. Practice social distancing and good hygiene. Do your best to avoid any occasion that might expose you further to the COVID-19 virus.
6.0 What will happen once I arrive in Malaysia?
6.1 Upon arrival, you will be carefully escorted by the relevant authorities to the Ministry of Health (MOH) personnel. At this point, you will be required to show proof of the negative RT-PCR test result obtained from your country of origin.
6.2 You are also required to show proof of the payment receipt of the Quarantine cost and the Covid-19 Screening Test from MySafeTravel (www.safetravel.myeg.com.my) / MyQr application by MyEG. Upon verification, you may proceed to the Immigration Counter for clearance to enter Malaysia.
6.3 Once you have obtained clearance from the Immigration Department, you will be assigned to a quarantine station. Our EMGS representatives will be obtaining this information from you to be furnished to your institution.
6.4 Government officials will then bring you to the quarantine station assigned to you. During this time, you are required to undergo quarantine for seven (7) to ten (10) days upon arrival to Malaysia before continuing your studies. The duration is subject to the students furnishing their RT-PCR Covid-19 test results at the international arrival gate. International students that are not able to provide RT-PCR Covid-19 test results or if the test results are not valid/acceptable by Ministry of Health, the students will be subjected to a quarantine period of ten (10) days.
6.5 Please note that you will not be allowed to leave the quarantine premises throughout the quarantine period.
6.6 On the 5th day (For a quarantine period of 7 days) or 8th day (For a quarantine period of 10 days), you will undergo an antibody test. If your result shows as negative, you will be given a release order and your institution will make travel arrangements for you to return to the institution, however, if your result is positive, MOH guidelines will apply.
Please take note that students with nationality or coming from the United Kingdom are not allowed to enter Malaysia